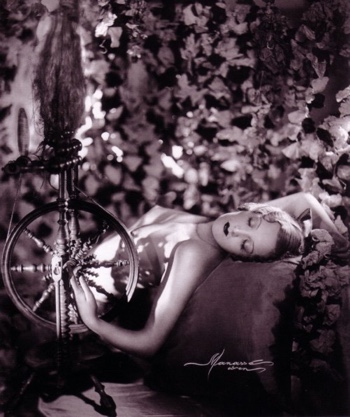 On Shakespeare's birthday this is déjàvu from Slyuses:Having my way with Ulysses. I wrote this in response to the "Scylla and Charybdis" episode lines 618-736 during which Stephen Dedalus preforms his Shakespeare theory to a small audience of librarians who are also editors of literary magazines, AE the poet theosophist mystic philosopher artist, and Buck Mulligan: frenemy.  In Shakespeare's Iambic pentameter they discuss the writing of his last will and testament.  I used Stephen's thoughts written in Homeric hexameter as my title for what I imagined to be Shakespeare's thoughts while he wrote his will.
If I were to have this day in Slyuses over again I'd title it "Encore vingt sous.  Nous ferons de petites cochonneries.  Minette?  Tu veux?" (In English: Again 20 sous. We'll fuck around a little. Eat a little pussy? You want?)  Pardon my French.  Ulysses is pure smut the whole way through, and thank every god for it.
Stephen remembers this French prostitute's proposal during his description of all of Shakespeare's dark ladies, and gentleman.  I would use her mouth to ponder Antisthenes taking the palm of beauty from Helen of Troy and giving it to Penelope.  For Antisthenes, Plato's own Buck Mulligan whom he heartily disliked, beauty derives not from an artistic sensibility but from virtue and morality.  Of course my French prostitute would be both artist and moralist — Helen, Penelope, and Antisthenes too, speaking from atop the filthy sheets of her secabest bed.